Dinner Tonight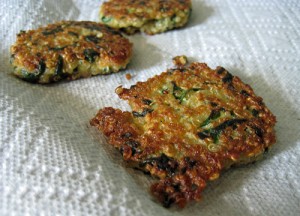 We are finishing a WONDERFUL dinner tonight!  I want to be sure to document this winner.
Quinoa Cakes with Spinach, Goat Cheese & Mushrooms
(makes about 12 cakes)
Ingredients:
2 cups baby spinach
3 tsp garlic, minced
2 cups cooked quinoa
4 ounces of goat cheese
1 tbsp flax seed & 3 tbsp water mixed together (egg substitute)
Greek Seasoning to taste (Penzey's)
Pepper
olive oil for frying
Instructions:
1. Heat 1 tablespoon of olive oil in a skillet. Saute the garlic and mushrooms then add the spinach. Cover, and cook until wilted. Set aside and let cool.  (I then put the mix in my nifty Braun hand mixer to cut it all up.)
2. In a small saucepan, mix the quinoa and the goat cheese over low heat until the cheese is all mixed in. Remove from heat when well combined.
3. Put the mushroom. garlic, goat cheese mixture in the quinoa along with the flax seed mixture and stir well. Add Penzey's Greek Seasoning to taste or just season with salt and pepper.
4. Heat a little olive oil in a skillet. Form the quinoa into 3? patties about 1/2 inch thick. Cook until well browned on one side, 2-3 minutes. Flip and cook on the other side, then set on paper towel.
Ben's Harvest Salad
(I'm sorry I don't have specific measurements.  Ben threw this together.  It was AWESOME and totally trumped my greek salad.  It was almost like dessert!  YUM!)
Salad:
Mix of 1/2 Baby Spinach & 1/2 Spring Mix
Toppings:
Red grapes, halved
Pine nuts
Craisins
Granola (We used "Ancient Grains" Cereal from Costco)
A sprinkle of Orange Peel (Penzey's)
Dressing:
Emeril's Simple Balsamic Vinaigrette minus the brown sugar
I can't forget our new favorite BOXED wine – BOTA BOX. And yes, I totally embrace this because one glass is all I need.  We are nearing the end of a Shiraz I bought at Fiesta in July but Costco now carries it.  Rock on!
*FYI – the pic is from The Barefoot Kitchen  whose recipe I followed with a few changes like the addition of mushrooms and the substitution of flaxseed to avoid the egg.