Day 25-33 of a 33 Day Raw Food Detox
I can't believe it's over!  I honestly wasn't keeping track of the ending date and until I received an email from the local Yahoo-group leader who led many of us through this process telling me that it was over, I was totally clueless!
I took a girls trip to the coast – Rockport, TX – over the 4th of July weekend.  I packed my blender and all my goodies and continued the raw journey, even on vacation.  I've never LOST weight on vacation until now!  I felt more alive and present to my kids than ever before.  Rockport is a usual destination for our summer vacations.  And with it brought many food memories – like fritos and bean dip, Brach's pick-a-mix, DQ dipped cones, shrimp & cocktail sauce, etc.  There was something glorious about being free from all those food burdens – those things that sound fun, and taste good in the moment and then make you feel awful afterward.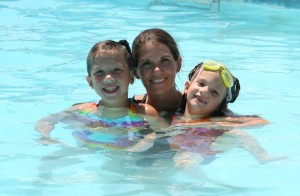 There are so many little things that I continue to see and realize as the journey continues.  Like, I have nails, and strong ones, for the first time in my life.  I have always bitten my nails to the quick.  But now I have nice, strong, long nails.  So weird!  And my taste buds have changed – or maybe I've just changed – but I don't want junk.  I don't desire anything less than the best.  I don't want piece of cake from a box.  I want to make a wonderful chocolate cake with the best ingredients, full of healthy substitutes.
I can see that my kids are changed too.  On vacation, my 7 year old was looking for something to eat.  And since my mom and sister were there also, there were some various sweets and such around.  Ella saw something she wanted and I could see her mouth watering…. and she mumbled under her breath "Oh…. there's so much temptation."  She quickly swung herself around, opened the refrigerator and grabbed a peach to snack on.  It was nothing short of amazing.  This little girl is years beyond where I was at her age.  We've gotten to have wonderful discussions about temptations – and how temptation is not sin – giving into the temptation is sin and walking away is overcoming sin – experiencing victory!!
This have been such a wonderful experience and I'm excited to see it continue.  While we will be incorporating some cooked foods into our diet, I don't see the re-entry of meat right now.  I can see on special occasions or when we are out with friends or something, but as part of our daily eating?… I don't think so.
Final results
Drum roll please…..
TEN solid pounds!  Current BMI – 21.5
I lost 5% body fat (I have one of those fat loss monitors)
Inches Lost:
Neck: .5″
Shoulder: 1″
Bicep: 1″
Chest: .5″
Waist: 2.5″
Hips: 3.25″
Thigh: 2.25″
Calf: 1″
Thanks to GOD, first and foremost, for revealing so much to me about Himself through this process.  Thanks to my precious, precious Made-to-Crave Bible study group.  I have not laughed and learned more with a bunch of girls in YEARS!  Thanks to Maria and the Yahoo-group – without it, I never would have dared to try this thing!
The journey is just beginning as far as I'm concerned.  Excited to keep traveling down this road paved with God's goodness!